Why Buy a Refurbished Laptop or Desktop?
Whether you need to replace your existing laptop or desktop or you are making your first big purchase to get online, there is no denying that the latest computers come with a hefty price tag that can sometimes be hard to justify.
A refurbished laptop is a highly recommended option, providing sufficient performance despite being previously owned. In this article, we explain just exactly what a refurbished PC is, as well as the benefits and considerations of purchasing one.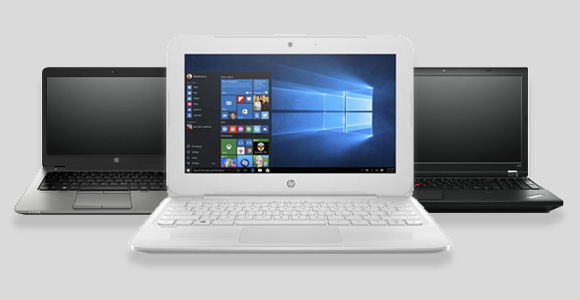 What does Refurbished Mean?
A refurbished laptop or desktop is a device that has been used previously and is then reconditioned by a specialist company, like us here at Stone Refurb.
Refurbished devices come in a range of conditions and each company has differing standards on how they grade the condition of the device and what they have done to them to class the devices as refurbished.
Most refurbished computers and laptops are retired business equipment usually from a leasing company where every couple of years they refresh their equipment. The leasing company will then usually sell this equipment to a recycling or refurbishment company or back to the manufacturer.
Are refurbished laptops good?
Many people wonder whether refurbished computers are even worth it. Most people that use their computers to simply browse the internet, save important documents, and let their children complete their homework find that refurbished devices are more than adequate to keep up with their typical routine.
It is possible, however, to find a refurbished device for specific needs. There are fantastic refurbished laptops for students that are easy to carry around campus and have adequate storage for university assignments. Refurbished gaming PCs are also a brilliant choice for those wanting to dip their toes into the competitive online world with a full set up.
There are many pros and cons of buying a refurbished laptop, which ultimately depends on your requirements of what you need from a PC.
Pros
The biggest advantage of buying a refurbished device is the huge savings compared to buying a brand-new device. The most cost-effective way to replace an existing device is with a refurbished item, rather than a brand new one.
Buying a refurbished device is very eco-friendly. As the devices are recycled products, they don't get dumped into landfill sites so help reduce environmental damage.
With all of our products, you have a six month Return To Base Warranty period, so if you have any faults within this time, we can repair or replace your item, for free.
You also have the option to upgrade your device to an extended warranty, should you feel the need to add this to your item, which gives you peace of mind, in case there was a fault to occur after purchase.
Cons
The main thing to consider is that your device will not be new. So depending on the grade you choose, it could have slight scuffs, scratches, or other signs of wear. It also won't have any of the original accessories, but it will be fully working and ready for its next life with you!
As your item would have been used by someone else, we can't always guarantee the condition of the components. The tests we run can only pick up so much, but it will still be in full working order.
Laptop, Mobile and Tablet batteries can lose their ability to hold a full charge over time. So, if the refurbished device you buy was in active use for a year or two, it could have a shorter battery life than a brand-new unit.
You're unlikely to find the latest-generation laptops available as refurbs, but they will still be more than capable of running the latest applications.
How reliable are refurbished laptops?
Refurbished devices are a fantastic money-saving option, that offers the same performance levels at a much cheaper price point. We're often asked just how reliable refurbished computers are, and the truth is that the majority of refurbished laptops and desktops function just as well in comparison to their new counterparts.
A reputable refurbishing specialist will go through several steps to ensure that the devices are ready for re-sale. For example, here at Stone Refurb, we go through the following procedure with each device to ensure it is properly refurbished and restored to its full potential.
Test
We first test the hardware to ensure all of the components are working to the standard as when they were produced. We check components such as hard drives, RAM, motherboards, processors, power supplies, and graphics cards to ensure each part is in a good condition.
Secure
Once everything is fixed up, we then move on to securely wiping the hard drive using Blancco secure data erasure. This is a National Cyber Security Centre and MoD certified system for the ultimate security.
Install
After everything is fixed and secure, we then install Windows 10, with a recovery partition (in case you ever need to re-install).
We are a Microsoft Authorised Refurbisher so you can be sure you are getting a fully genuine version of Windows, unlike some other refurbishers.
Clean
Finally, the device is then cleaned with environmentally safe antibacterial products to ensure that no grime or dirt is on the outside and no dust is inside the device.
After this last step, the device is ready to be delivered to you!
Should you buy a refurbished laptop?
Refurbished laptops and desktops are ideal for those looking to save a little money and help the environment. Providing a good level of performance at a smaller price point, refurbished devices are great for casual use and light work.
If you need any help selecting the perfect device for you, do not hesitate to contact us so that our friendly team of experts can discuss your needs and find the ideal match for you.