We can't find products matching the selection.
Choosing the perfect laptop for School, College or University
Buying a refurbished laptop can save you hundreds of pounds over buying a new device, and is a very cost effective way of getting a laptop for your educational needs.
As a student, choosing the right laptop can be a little daunting, as this thing is going to be your closest companion for the next 2-4 years! In this helpful guide we explain what you should consider when buying Laptops for School, College or University.
You need a quality laptop that is quick, light and reliable, but with so many laptops now on the market, how do you know which one is right for you?
Here is a simple guide to help you choose the perfect student laptop for you.
Also read: Why Buy Refurbished?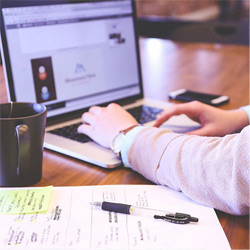 How much do you want to spend?
Your first consideration for a laptop is how much do you want to spend?
Laptops can range from hundreds of pounds, to thousands of pounds, depending on the model, brand and the laptop's features. Set yourself a budget and figure out what kind of laptop you are wanting to buy.
If you don't want to be spending an arm and a leg, why not go for a refurbished laptop instead? We have a huge range of refurbished laptops to offer, including brands such as HP, Lenovo, Dell, and more!
What will the laptop be used for?
Depending on the type of course you are taking, some students may use their laptops more than others.
Some students may just want a laptop for simple browsing and to share their student life on social media, whilst you may require a laptop to edit high quality images and videos.
Once you've figured out what you will be using the laptop for, this will give a better idea of what features the laptop should require.
What size laptop should you get?
This comes back to what you will be using the laptop for.
If you're going to be editing high quality images, then you certainly don't want a tiny screen! Think about where you'll be using the laptop too. Will it be staying in your student accommodation, or will you be carrying it round with you a lot?
Be realistic. Don't simply go for the small laptop just because it's cheaper and lighter, go for a size that is going to benefit you for the duration of uni life. And if you're thinking about getting a laptop to simply stream films, music and use social media, then a 2 in 1 tablet/laptop could be the better option for you.
Does screen resolution matter?
Yes!... Ok maybe it isn't AS important for some than it is for others, but even if you are only using a laptop to browse the internet, you're still going to want a decent resolution screen. Depending on the size of the laptop you are after, the screen resolution will differ between models.
We would suggest looking out for HD, Full HD, or Ultra HD/4K - These are all high-resolution screens that would benefit any student looking to buy a laptop for university.
Compare Products
You have no items to compare.
My Wish List
Last Added Items
You have no items in your wish list.